Soffit and Fascia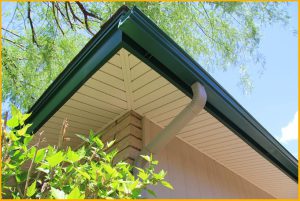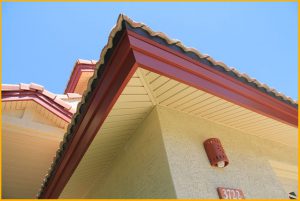 The most difficult part of maintaining your home is sanding, scraping and painting the eaves or, sometimes called, overhangs. What makes us different from most siding companies is that we "specialize" in custom covering all your wood trim soffits, fascia and porch ceilings.
---
Soffit, Porch, and Patio Ceilings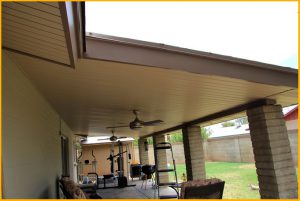 Most builders don't finish off the soffits by enclosing or boxing them in because of the expense and time. Most eaves and overhangs on custom homes and commercial buildings are enclosed at construction to reduce future maintenance cost and because the look is more polished.  Enclosing these areas also keeps birds from breaking through the screen covered vents to access your attic areas.
When we cover the soffit or ceiling areas, it gives your home a more "finished, upscale look."  The sharp clean lines will look beautiful and you will want to spend more time outside entertaining because it will have a brighter, cleaner and more inviting appearance you can enjoy and be proud of.
---
Fascia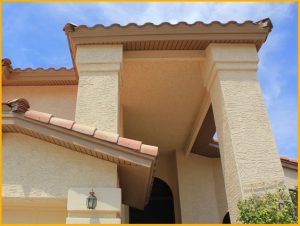 The fascia board is the piece of wood that runs along the roof line; generally 6 to 10 inches wide.  This area of the home receives the most direct moisture and sunlight and is the first place that quickly begins looking warn and deteriorated, making your home appear unpolished.  These boards often need replacing due to warping, rotting or cracking.
Our craftsmen set up a portable metal bender (called a brake) and take detailed measurements of your fascia boards. Then we start to custom bend and shape a vinyl coated aluminum coil material that never needs painting to fit all the fascia boards. This is where our precision as expert craftsman makes all the difference between a siding company and a custom trim company and the resulting beautiful appearance.
---
In Summary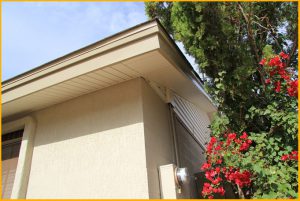 All wood homes need eaves covered more than walls because eaves are the hardest to paint and get the most wear and tear from the sun. Block, brick and stucco on homes typically look good for long periods of time and don't need to be painted very often; however, the eaves and gable wood deteriorate rapidly making the home lose its curb appeal. The entire home is usually painted even though the block or stucco may not need it. Covering the areas of the home that deteriorate easily make the entire home look beautiful all of the time, year after year, saving a lot of unnecessary money on repainting.
---
Contact Us – (602) 678-3737
---